April 2020 Product Updates
Another month of the pandemic is in the books and we're working to adapt to the new normal. While we're sorting that out, supply chain disruptions being managed by distributed teams have made Vendorful an increasingly important – and prominent – solution for our customers. And so our focus narrows and our work continues….
Improved File Uploads
We're delighted to roll out a new file upload experience. The old one worked nicely, but the new one is both more functional and friendly. Some of the key changes are listed below.
Asynchronous file processing. All files are virus scanned and many are converted to PDF previews. You can now navigate to a new page after you've uploaded your files and the processing will simply continue in the background.
Ad hoc and managed files. Vendorful has long had a file manager that allows buyers to quickly reuse common documents, e.g. "About the company,"' "Supplier diversity initiatives," etc. Now, you can uncheck a box if you want the newly uploaded file to be limited to a sourcing event rather than in the file manager.
Improved user experience. From changes to the layout to more automation, the UI is easier to navigate and requires fewer clicks to use.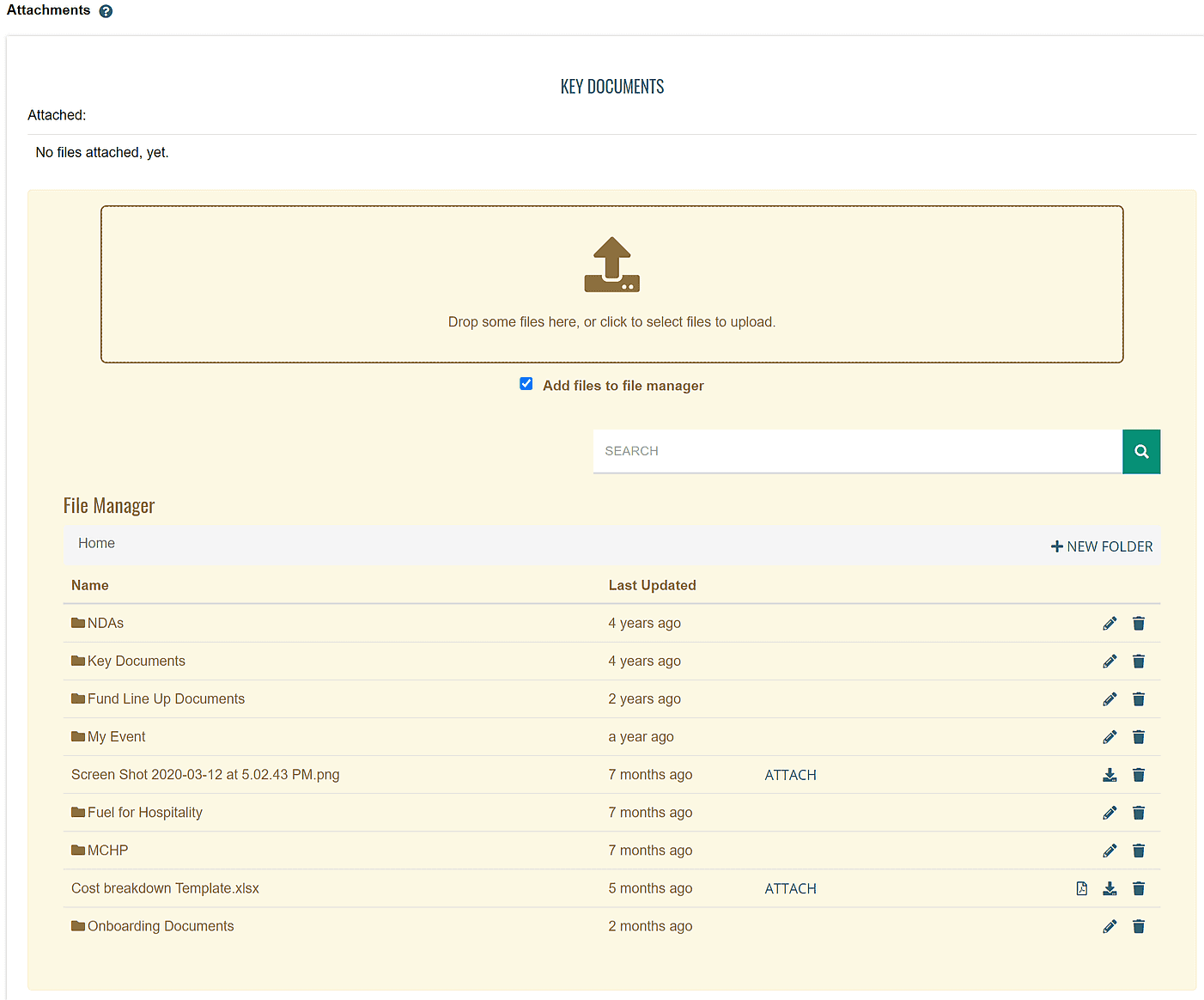 Sourcing Pipeline Reports!
Several months ago, we rolled out our Sourcing Pipeline module. We built it in such a way that our customers could customize the data they captured. As different procurement organizations function in different ways, this was a big plus. However, that same flexibility makes building a reporting interface extra challenging. We've iterated, gotten feedback, and iterated some more and no we're really excited to roll this out. One of our customers, an early adopter, has already been making extensive use of this with the head of procurement's having real-time access to progress against savings targets.
The image below shows actual savings for a Vendorful customer. We've blurred non-numeric information for data privacy reasons.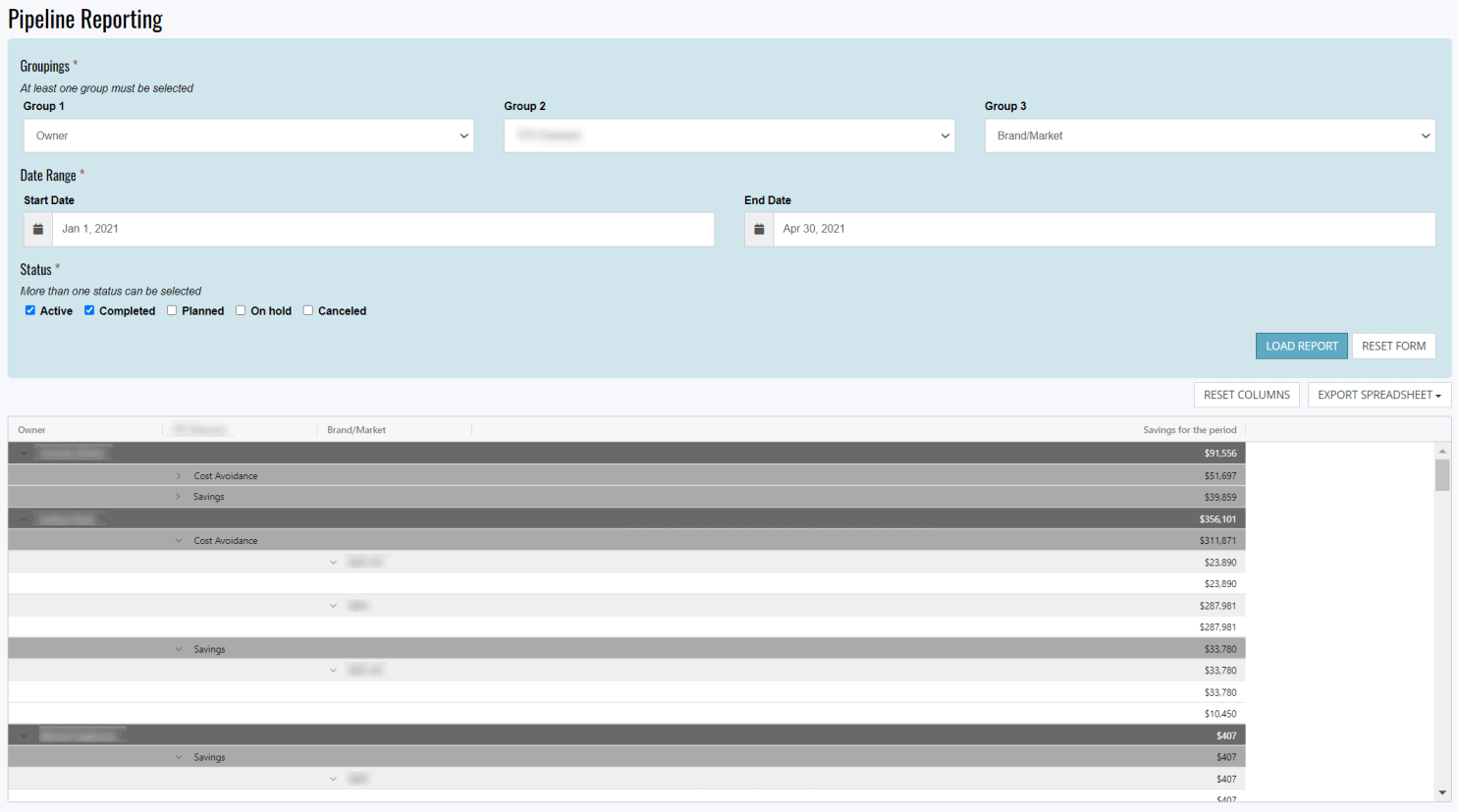 However, if you prefer a more traditional bar chart, Vendorful has got you covered. Think there's another chart that would work well here? Let us know.
Contact Exports
Are you working with hundreds or thousands of suppliers and have multiple points of contact at each? Our Vendor Management module has got you covered. Now, what happens if you need that data for another system, or even to do something like run a mail merge? Excel, we can't quit you. Now, exporting all – or any filtered subset – of your contacts at suppliers can be quickly exported as xls, xlsx, or csv.
There were a bunch of other visible enhancements to the product last month as well. Notably, we added some additional functionality to the advanced pricing table to provide even more flexibility and control. If you would like to learn more about any of the improvements listed above or are curious to know what didn't get added to the list, sign up for a Vendorful demo and ask away!
Did you know we publish new product updates every month? Catch up on our most recent releases:
https://vendorful.com/wp-content/uploads/2020/05/April-2020-Product-Updates.jpg
1280
1920
retaliate1st
https://vendorful.com/wp-content/uploads/2021/09/vendorful-logo-color.png
retaliate1st
2020-05-05 11:26:00
2021-10-01 12:08:33
April 2020 Product Updates