December 2019 Product Update
In the United States, November is probably most commonly associated with Thanksgiving, a holiday that begins with people expressing their gratitude and all too often concludes with people fighting the onset of "food comas" on the couch. At Vendorful, we enjoyed our turkey (and Tofurkey) along with our sweet potatoes, gravy, and stuffing. But we crushed a lot of bugs before the onset of food-induced sleepiness kicked in. Indeed, November was a month where we focused on small and behind-the-scenes improvements. Consequently, this will be a fairly short update.
More RFX Configuration Options
We further expanded the customizability (is that a word?) of eRFX. Two of the key additions were the ability to require the selection of a business unit/department and the ability to add/remove key dates. The former enhancement is particularly helpful for larger organizations that want to track which departments are running RFX…or having RFX run on their behalf. And the latter configuration option allows organizations to simplify building schedules that comport with their existing processes.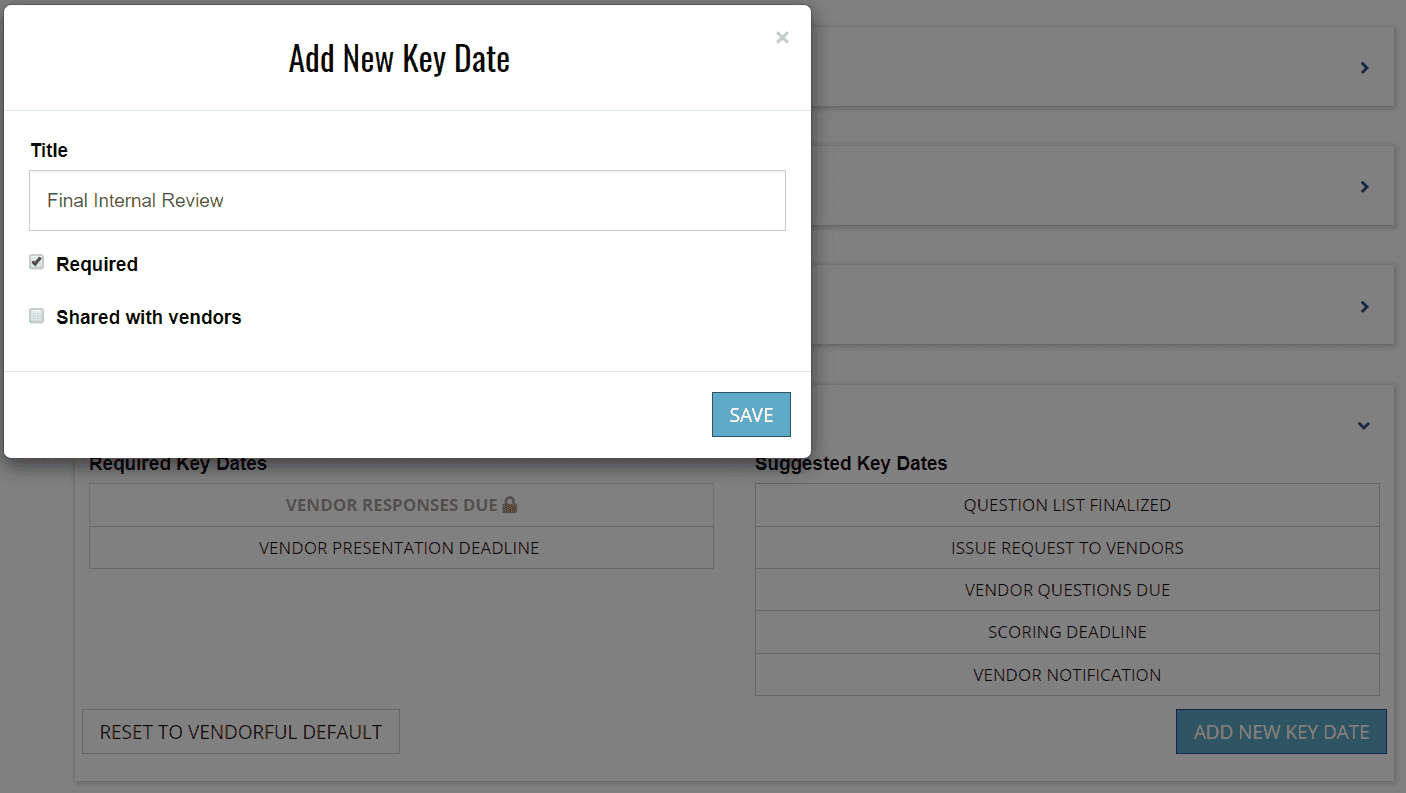 Outbound RFX Improvements
Vendorful now allows searching and sorting on current and previously-created RFX by creator in addition to the members of the team. This feature was added specifically to address a need expressed by a customer. That same customer also wanted to be able to export the list of RFX after doing the requisite searching and sorting. So despite our best efforts to help people reduce their reliance on Excel, we now have an additional Excel export option.

Behind the Scenes Stuff
November's development work was like an iceberg in that most of it was under the surface. Many bugs were squashed and we also worked on a new (still secret) module that we hope to release in the not-too-distant future. Maybe next month we'll be able to tell you a bit more?
Want to check out these new features? Sign up for a free Vendorful trial.
Interested in being the first to know about new Vendorful features or just want to keep up on procurement news? Subscribe to the blog!
https://vendorful.com/wp-content/uploads/2020/06/2019-12.jpg
1080
1920
retaliate1st
https://vendorful.com/wp-content/uploads/2021/09/vendorful-logo-color.png
retaliate1st
2019-01-03 09:33:00
2021-10-01 12:08:34
December 2019 Product Update