January 2019 Product Update
We turned over a new year and with that, we turned over more code. One of the things that never makes it into these release notes is refactoring, which our development team does constantly. Refactoring is, in effect, cleaning up code that already works. We do this to make our code more efficient and maintainable. It doesn't grab headlines, but by being diligent about this, we are able to build the headline-grabbing features much more quickly than we would otherwise. Anyway, we know why you're here, so onto the fun stuff….
Open/Public RFX
If you work at an organization that takes public funding or simply want to increase the number of vendors that can bid on your RFP, then the new "Open RFP" feature might scratch your itch. Heretofore, vendors would need to be explicitly invited to a Request in order to participate in it. Now, if a buyer checks a box, Vendorful will generate a URL that is accessible without requiring a username and password. Vendors that are interested can simply click a button and create a free account to respond.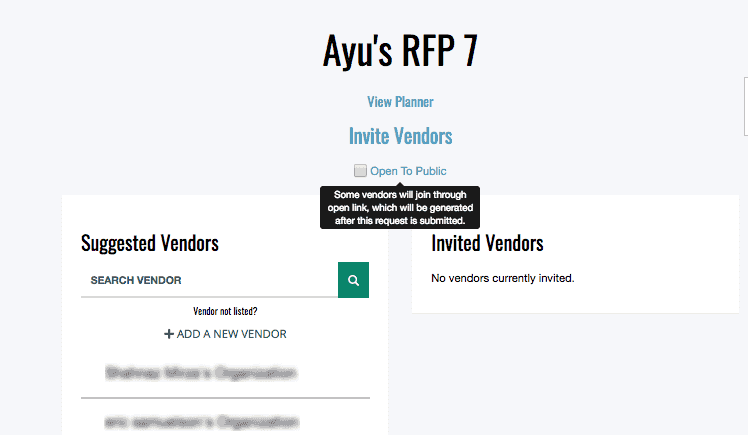 Once selected, vendors that weren't invited will see something like this: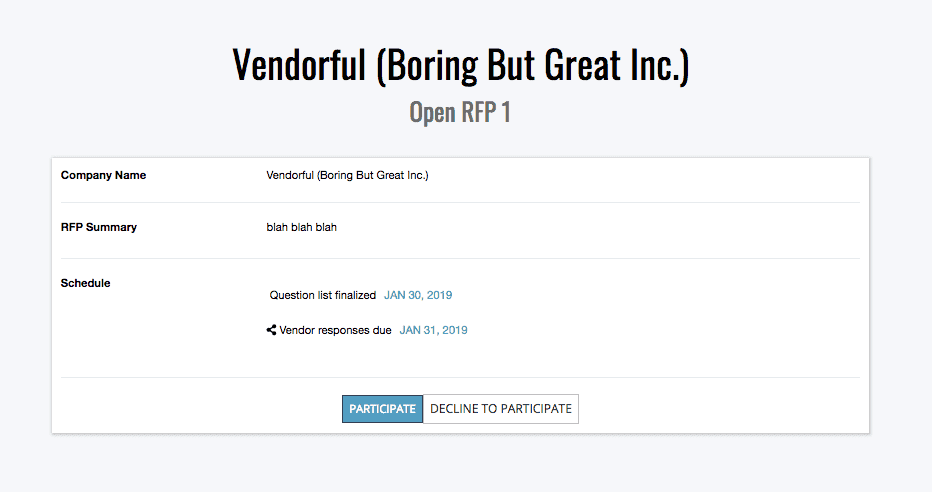 More SSO
There's nothing to see here. Really. It doesn't make sense to include a screenshot. However, it is nice to tell you that in addition to SAML, Vendorful now has OpenID Connect and general OAuth2 federated auth support. For the non-technical among you, this means that Vendorful has more integration options with your Single Sign-On system.
Audit History in the Questionnaire
One of the core beliefs we had before we wrote a single line of code is that the product that we built should be collaborative. As a consequence, Vendorful was built on top of a real-time collaboration engine. This allows us to do a variety of "Wow!" things like offer a real-time, collaborative questionnaire builder. Imagine that you're running an IT RFP and you're focused on the Security section while you're coworker is building out the Support questions. And as each of you makes changes, your colleague's screen updates in real time to reflect them. Pretty cool, right?
But what we were missing is way to keep track of who changed what and when. This was remedied with the introduction of an Audit History.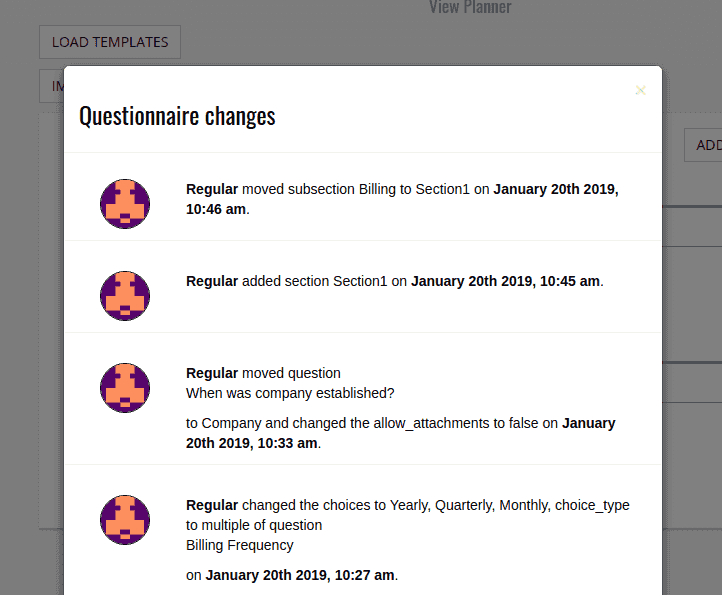 Confetti!
Have you ever been nervous about getting a shot at the doctor's office? And then, the shot is administered and is painless, leaving you to ask, "Is it done?" We found that this was happening to vendors who used Vendorful to respond to RFPs. They expected it to be painful, but found it so easy that, upon submitting the response, many of them were waiting for the other shoe to drop!
Now, we let them know that they're all done and ready to celebrate with some confetti!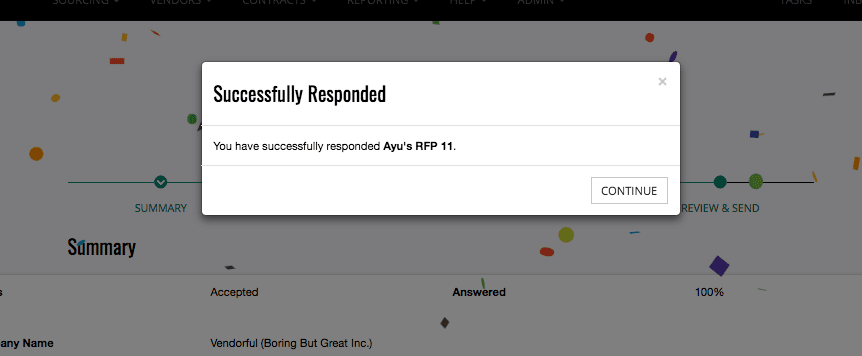 Want to check out these new features? Sign up for a free Vendorful trial.
Interested in being the first to know about new Vendorful features or just want to keep up on procurement news? Subscribe to the blog!
https://vendorful.com/wp-content/uploads/2020/06/2019-1.jpg
1080
1920
retaliate1st
https://vendorful.com/wp-content/uploads/2021/09/vendorful-logo-color.png
retaliate1st
2019-02-05 09:30:54
2021-10-01 12:08:34
January 2019 Product Update