July is the height of summer in the United States. And since we provide out team tons of flexibility regarding their hours and location, it's not outside the realm of possibility that some of these features were developed poolside. Put on your sunblock and shades as we walk through some of July's more interesting enhancements.
An Overhauled RFX Response Experience
When buyers run strategic sourcing events, they want to maximize vendor participation. If vendors are disengaged, the competitive dynamics are limited, which results in less value. Some of the feedback we've received from buyers who use our system is that they see better engagement from vendors when RFX are issued through Vendorful rather than through email and attachments.
Despite offering the vendors a good experience, we've felt that there's been something missing. We want them to have a great experience. Simple. Intuitive. Collaborative. So we went back to the drawing board and are delighted to announce the release of the new response experience. Some of the key improvements:
Fewer clicks. Vendors can simply click into a text box and start typing.
Easier attachments.
Question states, i.e., questions can be answered, in a drafting state, or unanswered.
Enhanced task assignment.
Better filtering.
Point-and-click navigation to specific sections and subsections.
A persistent progress bar that shows the vendors how close they are to the finish line.
Better performance.
Now let's look specifically at questions. Note the states, the ability to assign tasks, upload files, and more.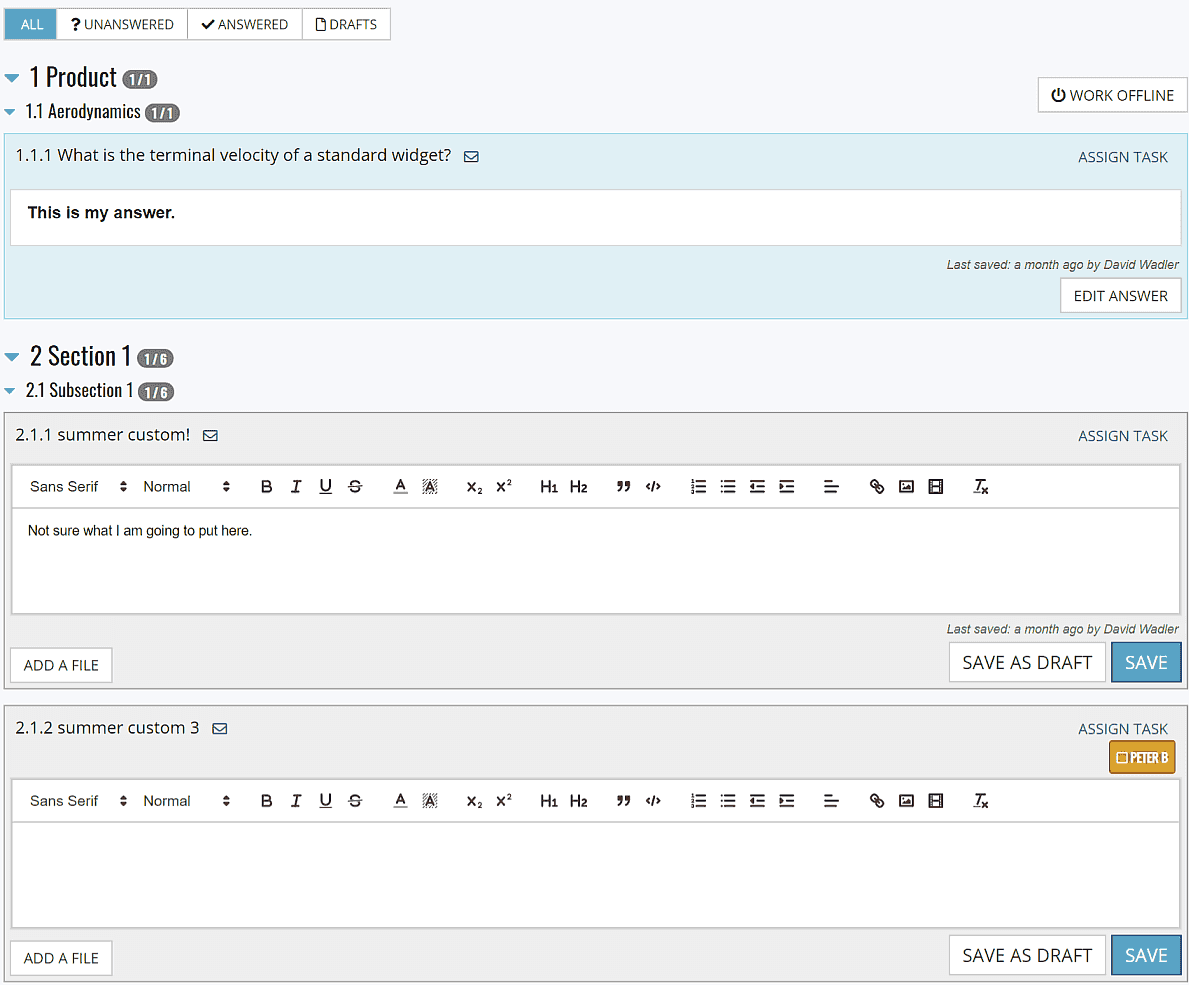 Organization-Wide Request Settings
Are you tired of entering the same Terms and Conditions for every RFP? Are there certain questions that you want considered for every strategic sourcing event you run? Vendorful now allows you to capture those preferences and apply them to all of your RFX. You can even set up different configurations for RFPs, RFIs, RFQs, and IFBs. This ties seamlessly into the Strategic Sourcing module. Our buyers who are using this are not just saving time, but also ensuring that their sourcing events conform to organizational policy.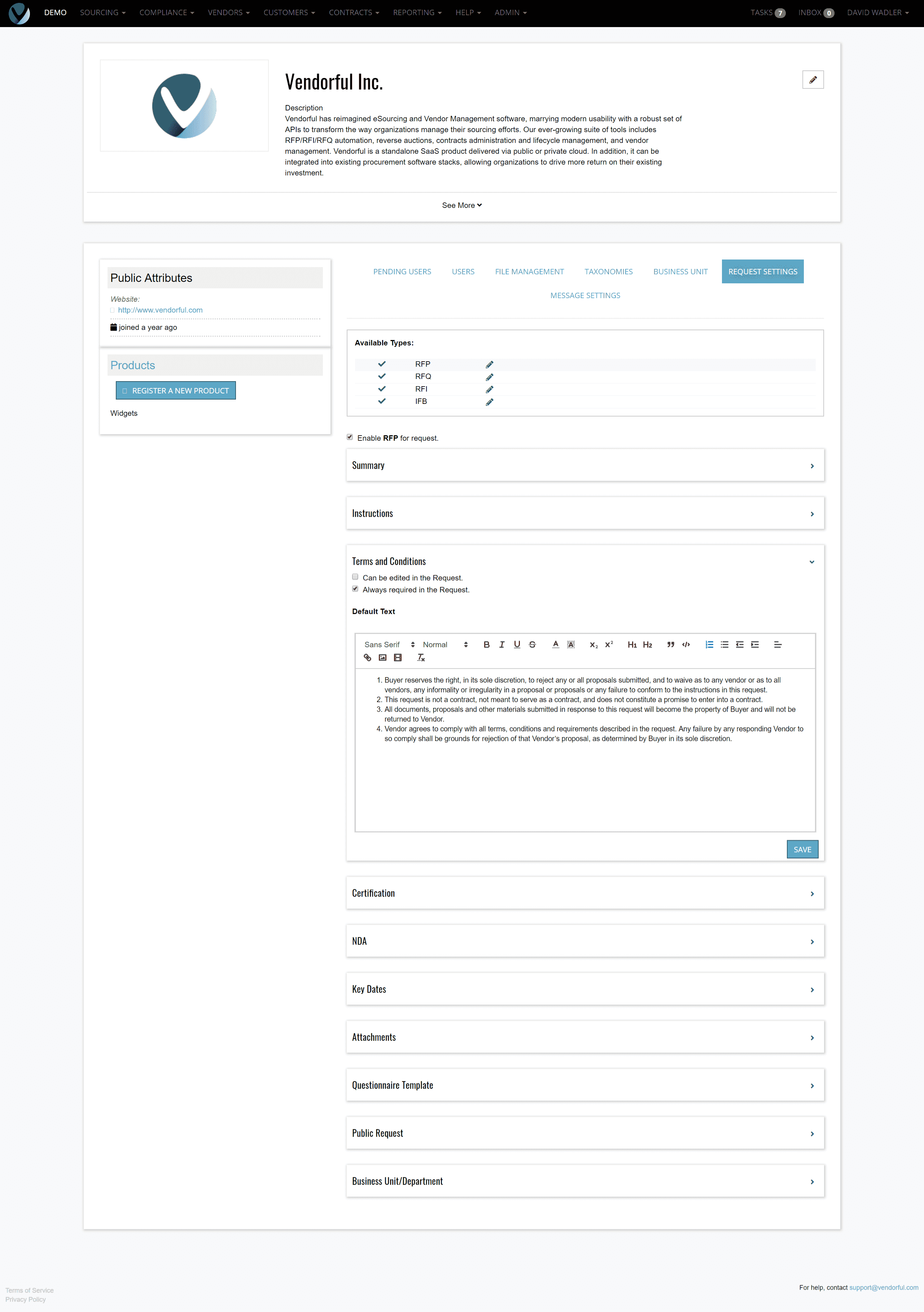 More Org-Level Settings
In addition to providing granular control over your strategic sourcing events, Vendorful also rolled out some additional configuration options. The first is "Business Unit." You can create and name business units that correspond with those in your organization, e.g. ​sales, legal, HR, etc. Once they've been created, you can capture which business unit is connected to the strategic sourcing event. Now, you'll be able to slice and dice your data in an additional way.
We also added a "Message Settings" for organizations that have strict policies around the use of chat or regulations in place that govern how they communicate with suppliers during a strategic sourcing event.​​

The Need for (Even More) Speed
We added additional features around list filtering and more. July also saw more changes to support better performance of the application. A key change is how we handle embedded images. If you'd like to get into the weeds on the change, please feel free to contact us!
Want to check out these new features? Sign up for a free Vendorful trial.
Interested in being the first to know about new Vendorful features or just want to keep up on procurement news? Subscribe to the blog!
https://vendorful.com/wp-content/uploads/2020/06/2019-7.jpg
1080
1920
retaliate1st
https://vendorful.com/wp-content/uploads/2021/09/vendorful-logo-color.png
retaliate1st
2019-08-02 08:21:11
2021-10-01 12:08:34
July 2019 Product Update