July 2020 Product Updates
July was a hot month for Vendorful in terms of both the weather and productivity. (Thank goodness for air conditioning!) Having signed some new enterprise customers, we've gotten a variety of requests for new features and enhancements that are going to provide lots of value to our existing – and future – customers. So it's been an exciting opportunity for our team to expand the capabilities of our offering in very specific ways. This update is going to be a bit longer than usual because there is a lot of complexity that is being abstracted away by Vendorful and we want to make sure that we have space to explain the specifics.
Native Spreadsheet Support
When we started Vendorful, our focus was solely on helping organizations run RFPs for complex IT purchases. A pricing table didn't make much sense because it was difficult to get apples-to-apples pricing for those kinds of sourcing events. But as we moved outside of IT, we rolled out our first pricing table and it was well received. However, as our customers continued to expand their usage of our platform, they needed a more robust pricing table. And so we delivered one. And it, too, was well received.
But as the scope of RFX expanded in our system, covering just about every category you could consider across both direct and indirect spend, it became clear that we needed more. And now we have it – native spreadsheet support! What does this mean?
Buyers can create spreadsheets in the Vendorful app or import spreadsheets that were created offline in applications like Excel.
Advanced spreadsheet features like formula support, cell coloring, and more are now natively available inside Vendorful.
Multi-sheet documents are supported.
Vendors can complete spreadsheets online or offline as well.
So many procurement professionals complain to us that they spend far too much time in Excel. But in some cases, taking Excel away isn't the answer. For non-columnar, i.e., cell-based, collection and analysis of pricing, a spreadsheet is the right tool for the job. And now, it will work seamlessly inside Vendorful.
Setup is simple and should look very familiar.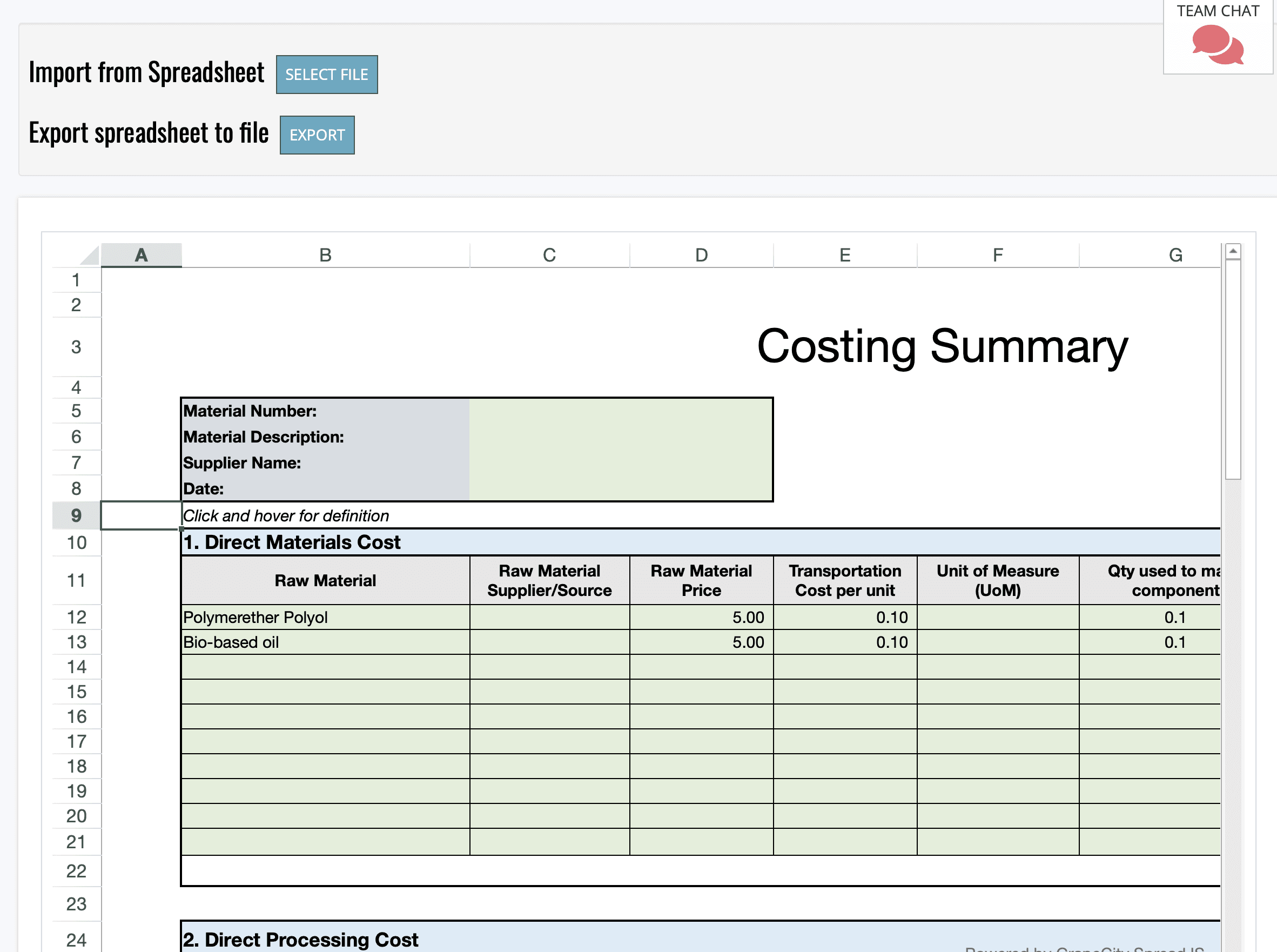 And on the evaluation side, we continue to support blind analysis for organizations that simply want to look at the numbers and not be influenced by cognitive biases.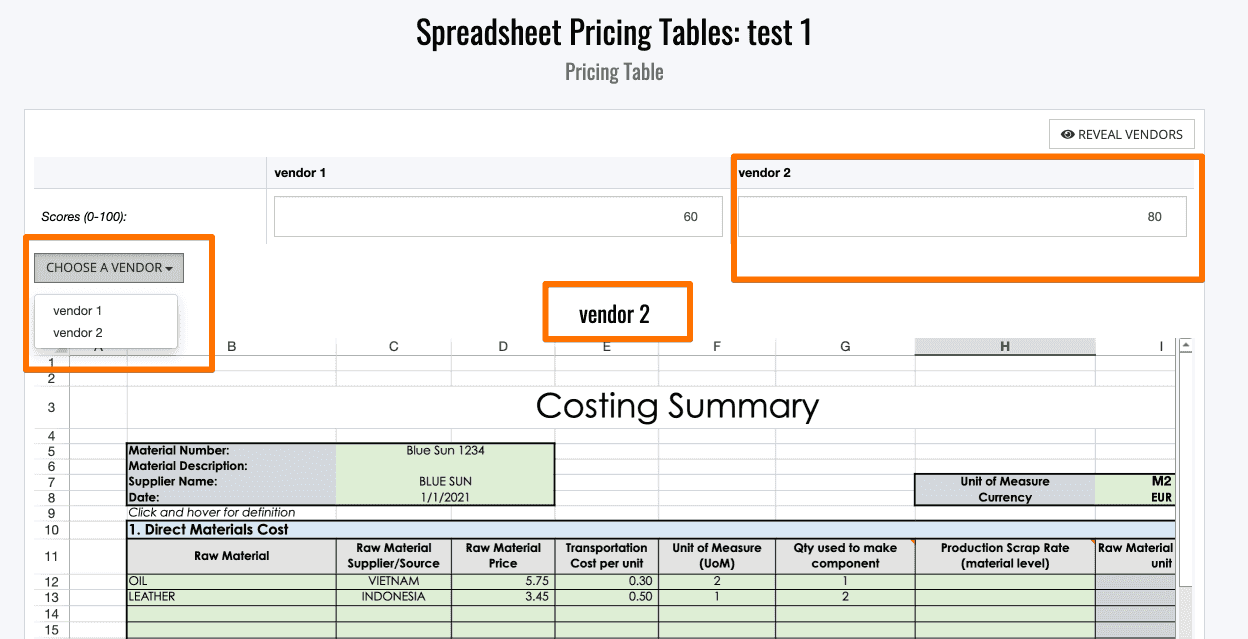 Cleaner Survey UI and More Granular Scorecards
Cleaner Look
We tightened up the UX/UI of surveys to make them a bit more aesthetically pleasing, bit primarily to make them easier to complete. Here's an example of a small survey.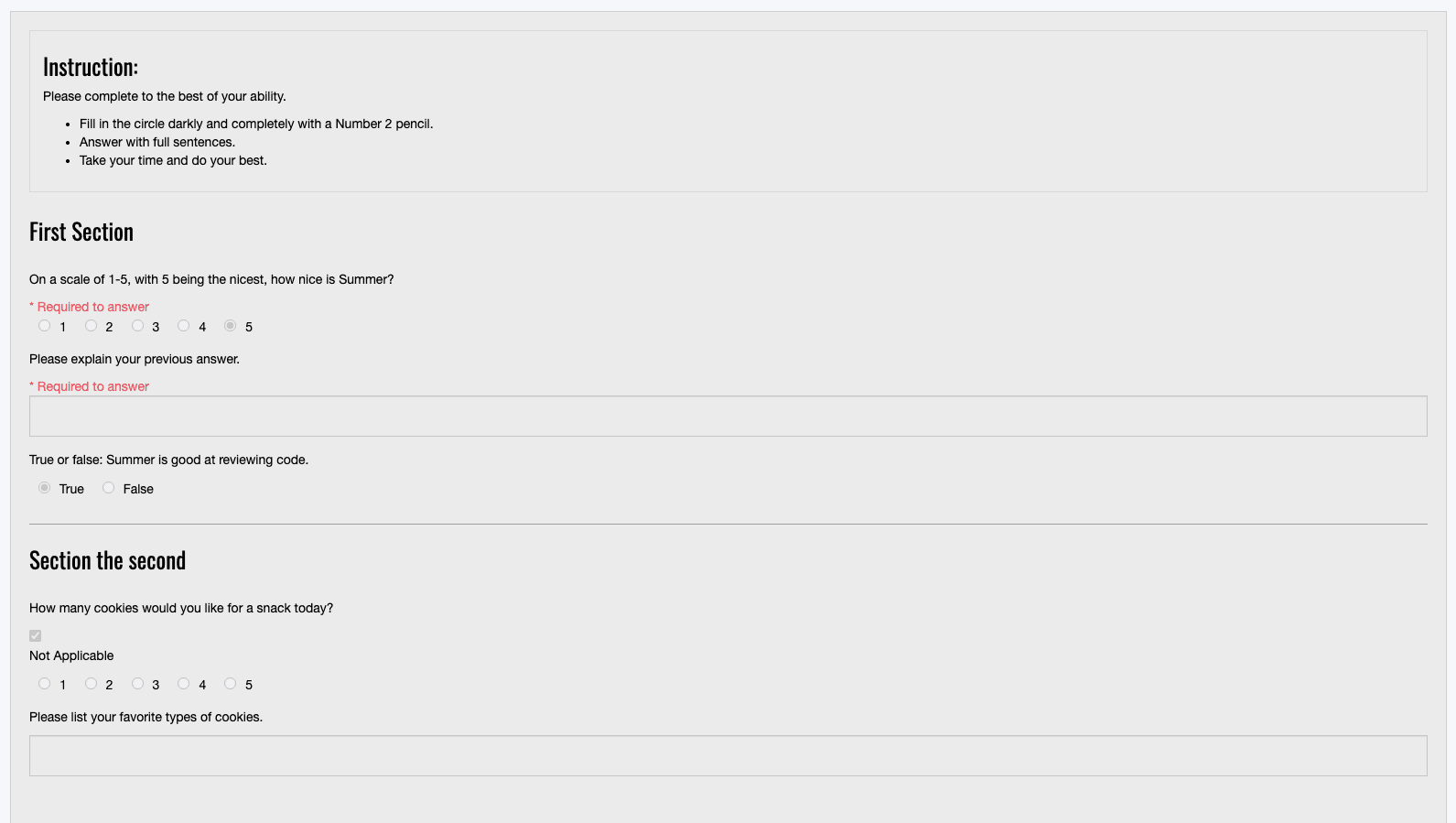 More Granularity
Several paragraphs ago, you were warned that this blog entry would be a bit longer than most of our product updates. Here's where the rubber really hits the road.…
One of the problems with Scorecarding software is that they are not built for automating granular analysis. What do I mean? Imagine you are a manufacturer of clothing and you have a supplier, Acme, Inc., which cloth, buttons, zippers and wool to your company. Now imagine that you want to have both a holistic understanding of how Acme is performing, but also a breakdown by material. In most systems, this would be five surveys sent out to various people. And that's how it would have worked in Vendorful…until now.
In Vendorful, a buyer would be able to associate Acme with multiple categories in the buyer's taxonomy. In this case, we'd be looking at cloth, buttons, zippers and wool. Evaluation surveys can now map to categories and roles. What this means is that the right person is evaluating the right thing at the right time. Imagine the survey has a question about billing, which is to be completed by someone in finance, but is a different person for each product that Acme supplies. So there could be multiple roles that are mapped by responsibility and category. In this example, we'll split finance into two groups, one for the primary materials and the other for ancillary ones. So we would create a role called "Primary Material Finance" for the billing team that deals with cloth and wool and another role called "Ancillary Material Finance," which would be associated with buttons and wool categories.
For Acme, user Alice is assigned to the "Primary Material Finance" role, and Beatrice is assigned to the "Ancillary Finance" role. During the survey setup, we select which category tags to conduct the survey on (all should be loaded by default, and then be removable). To make things interesting, let's remove wool, so our stakeholders are only evaluating cloth, buttons and zippers.
When the survey setup is done and the survey is launched, Alice would get two survey tasks: one to answer her question on the Acme/cloth survey and one for the Acme/buttons survey. Beatrice would get one task: to answer her question on the Acme/zippers survey. Any questions or sections assigned to roles NOT associated with specific taxonomy tags (they are optional) would cause the corresponding users to get a single survey task – just answer the requested question or section for Acme overall.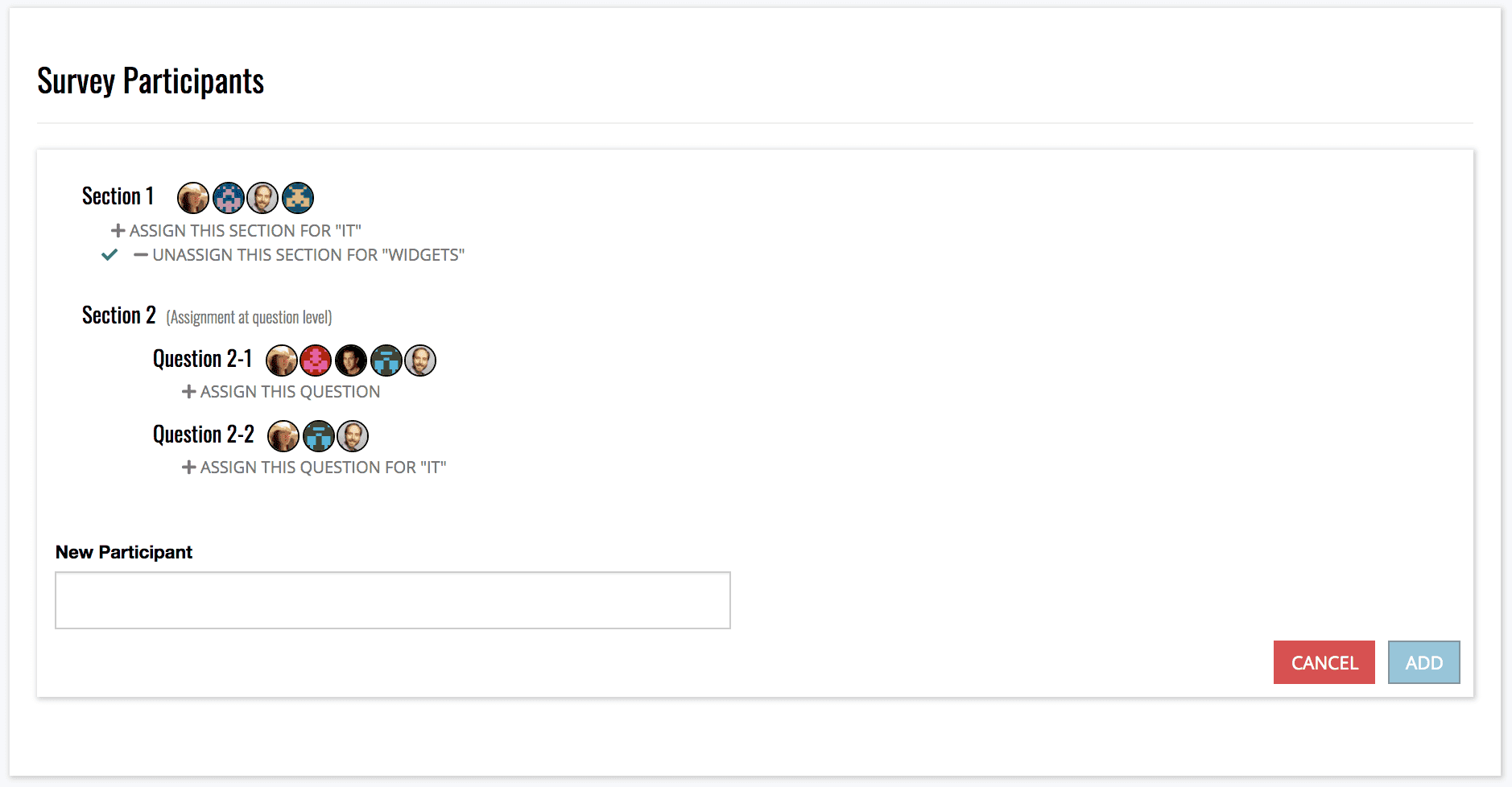 Is your head spinning yet? This is not easy to imagine. Fortunately, we've reduced all of this to a few clicks in a very intuitive interface the Vendorful app. (Yes, that took a lot of work. Our heads were spinning when we initially get the requirements as well!) Now, you can configure extremely detailed surveys to understand how your suppliers perform in exacting detail for each category they supply and then see how that rolls up to an aggregate score. If you'd like to see just how easy this is, schedule a demo and we'd be happy to show you.
Sourcing Pipeline Updates
If you've made it this far, then you're a trouper! We'll err on the side of brevity here so you can get back to more important things. There were two significant changes to the Sourcing Pipeline module.
Pipeline items can now be cloned. So if you have an item and want to create another item that is largely similar, you can copy the first one, make edits to the copy, and then save it.
Managers can now see the pipelines of their reports. And since we implemented this feature so that it supports cascading, it works all the way up the organizational chart. Managers can see not only their own Pipeline items, but the Pipeline items belonging to their direct reports, and their reports' direct reports, on down the line: anyone who rolls up into them on the org chart.
Want to check out these new features in action? Sign up for a Vendorful demo.
Did you know we publish new product updates every month? Catch up on our most recent releases:
https://vendorful.com/wp-content/uploads/2020/08/July-2020-Product-Updates.jpg
1280
1920
retaliate1st
https://vendorful.com/wp-content/uploads/2021/09/vendorful-logo-color.png
retaliate1st
2020-08-05 11:18:00
2021-10-01 12:08:33
July 2020 Product Updates