First Marketing, Then Automation
Several articles ago, I wrote about my coming to terms with the importance of marketing. I didn't really even understand  what marketing was during my first startup, but this time around, things would be different. However, although I realized how critically important marketing would be for any venture, I had a very difficult time sorting through all of the technology that has been developed in recent years to make marketing both easier and more effective.
My confusion actually dates back a few years….  My previous company added a leader in the marketing automation space to our client roster. I knew the company and it seemed like every one of their customers was an A-list brand so I was particularly excited when we closed the deal. A few weeks later, I visited their site as I had received word that they had launched their online video library, which we were powering. Everything looked really slick and polished. I was so caught up in the aesthetics that it was particularly jarring to receive an email from someone on the company's web development team. The email clearly indicated which videos I had been watching and even showed dates and times for when I had previously visited the site. Was I creeped out? No. (Should I have been? Perhaps….) I thought this was amazing.
I reached out to a contact at the company and arranged for a demo. It was my first exposure to marketing automation software. While I wasn't a marketer by any stretch, I was an avowed "automater." Case in point: when I was tasked with sending out "save the date" emails a few months before my wedding, I wrote a script that parsed a guest CSV file, customized the greeting, dropped in a message body, and sent the email. So it was surprising to me that after the demo, the only thing I really understood about what I had seen was the marketing part of it.
From Confusion to Clarity to Confusion Again
The product was really confusing, but beyond that, I lacked the context to appreciate – or even fully understand – its value. Fortunately, the market for marketing automation systems has become much more robust. There are tools for businesses of all stripes and all sizes. The competition has impacted buyers in several positive ways.
The tools have gotten much easier to use as the addressable market now includes people who don't manage large teams and even larger budgets.
The messaging around the value proposition has become increasingly clear as the marketing automation category has matured.
There are options at any number of price points that should work for companies ranging from bootstrapped startups to huge multinationals.
As with most things in life, there are trade-offs. And the big one here is the paradox of choice. Marketing automation has evolved from a narrow niche into a multi-billion dollar category. SiriusDecisions reported in their 2014 "B-to-B Marketing Automation Study" that there was an eleven-fold increase in the usage of marketing automation in B2B companies over the preceding three-year period. In the years, hence, marketing automation has continued to grow in concert with the broader marketing technology, aka "martec" market. If you're looking for a visual representation of the paradox of choice in building your martec stack, you're in luck. Scott Brinker (@chiefmartec) has compiled the eye chart of eye charts. So whip out your magnifying glass and give this a look: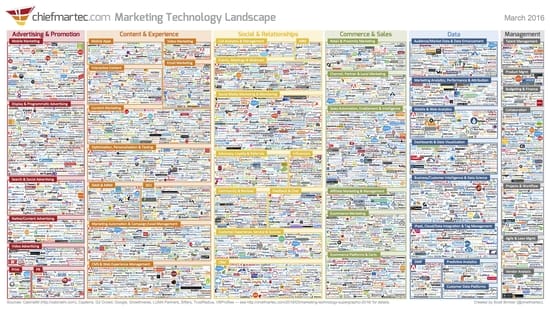 You can look at a larger-sized version here .
But let's not get lost in the myriad tools available for marketers…or even the myriad companies competing in marketing automation. Instead, let's take a quick look at what marketing automation is and understand some of the key features and benefits of the technology.
Eureka!
At its core, marketing automation gives marketers back their time while simultaneously improving the conversation an organization has with its prospects and customers.
Remember the story about my "save the date" emails? Well, I was basically marketing my wedding. Now imagine that my guest list was a couple of orders of magnitude larger and that different guests found different parts of the wedding particularly appealing. Some want to go because it's open bar. Others want to support the couple. Still others will go anywhere that there is dancing and live music. Now imagine that I wanted to personalize these emails to some degree such that I can speak to the specific interests of the potential guest. And rather than sending a single email, I was going to send a stream of emails that build the excitement. At this point, I would have to spend a bunch of time writing scripts, hacking together new CSVs, etc.
Marketing automation makes all of this simple. But it also does much, much more. Marketing automation enables you to have a focused conversation with your prospect or customer in a turnkey way. It's not just a mechanism for sending bulk emails. Rather, it allows the user to apply logic based on data that is collected about the recipients of that marketing message. If, for example, someone who you thought was an open bar aficionado was actually more interested in dancing, a marketing automation tool can automatically start sending messages that better align with this person's interests.
A Robust Set of Tools
The scope of a marketing automation solution merits something well beyond a 1,000-word article. In addition to email magic, marketing automation tools will typically support landing page creation, lead gathering, lead scoring, and conditional behaviors, i.e., if my prospect does this, the marketing automation software should do that. Some providers even integrate support for social media and content syndication.
What's right for you? That, I can't answer. However, the data suggests that you and your organization would benefit from a marketing automation solution. In 2015, VB Insight reported that 80% of adopters saw an increase in leads and 77% increased conversions. More leads and greater conversion? I imagine your interest is piqued. But where can you learn more?
Fortunately, there's a ton of good information about marketing automation available online. At Vendorful, we thought it would be helpful to sift through that information and distill it down for you. You're just a couple of clicks away. Please feel free to check out our Mini-Guide to Marketing Automation and/or our Marketing Automation Cheat Sheet. Let us know what you think!